Lifting the Lid on Street Food with Good Food & Co.
Good Food & Co. founder, Lance Cowan, gives Buoy the inside scoop on running a street food business, throwing vegetables and how the chips are stacked.
FIRST THINGS FIRST. HOW WOULD YOU DESCRIBE GOOD FOOD & CO.
In a nutshell, it's a street food stall selling globally inspired food which is entirely gluten and dairy free.
It's an amalgamation of a few things from my life wrapped up in a street food blanket and shaken out for everyone to enjoy! Its shows off my love for spice, bold flavours and hearty cooking from around the world, my passion for local produce, my gluten-free cooking and sustainable values.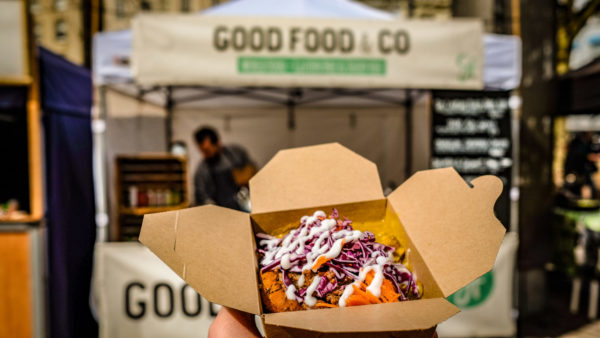 WHAT'S YOUR BACKGROUND IN CHEFFING AND WHAT MADE YOU WANT TO TAKE THE LEAP INTO STREET FOOD.
I've been in the hospitality and catering game for 22 years now! I've done pretty much every job in the industry from kitchen porter to head chef to general manager, just to name a few. From cooking in pizzeria's, pubs, cafes, stadiums, event catering and restaurants.
I went back and forth from management positions and kitchen positions not knowing what I preferred but in the end, I realised I just didn't enjoy working for other people! So I needed to do something for myself. It had been a dream of mine to set up a festival and street food stall for a long time and I dabbled in it 2009 doing a food stall back in Oxford where I lived at the time. I was cooking South African (where I am from) and Carribean food.
At the beginning of 2016, I found myself 'between jobs' having lost all interest in continuing being employed in the industry. I played with some ideas of being a professional surfer or a tree surgeon but I soon realised my one surf trip a year wasn't quite cutting it as professional training and I remembered I am scared of heights. This was the moment I decided to take the leap and set up my dream street food stall. I saw a gap in the market for food that I could eat (I am on a strict gluten-free diet) and hearty food with big flavours that took me back to some of my childhood food memories.
WHAT ARE THE BEST AND WORST MOMENTS WHEN RUNNING A STREET FOOD BUSINESS?
The best moments are always when the weather is amazing and your customers are giving you great reviews. When they start returning time and time again that's an even better feeling!
The worst moments are when the rain is pouring and the wind is blowing your gazebo around like a rag doll. Those days usually require a debriefing in the local pub.
WHAT'S YOUR FAVOURITE STREET FOOD IN BRISTOL?
I am probably the worst person to answer this question as I can only eat from a few of them but here's my top 3 in no particular order.
Los Hermanos – For the confit potatoes topped with sugar cured pork, slow roast chicken, roasted peppers and onions, cheese sauce and pickles.
The Little Taquero – Authentic corn tacos and all gluten-free! I love the Chicken Itza taco with lots of hot sauce and the mango drinks.
Ka:Fei – Ok so they don't actually sell food however Ka:Fei serve one of the best coffees in Bristol and their container coffee shop (formally Just Ground) is a stones throw from the Harbourside market and they keep us fuelled at every market. They are probably the nicest people you'll find in the morning as well!
WHAT'S YOUR GO-TO PREP ALBUM?
I have loads ranging from rock and drum and bass to soul and hip-hop but this year 'Idles' – 'Joy as an Act of Resistance' has been played on repeat in the kitchen
WHICH VEGETABLE DO YOU THINK YOU COULD THROW THE FARTHEST?
It's got to be a Turnip. Everyone knows that.
WHAT CELEBRITY CHEF DO YOU THINK YOU'RE MOST SIMILAR TO?
For my use of spice, bold flavours and rustic style I would like to be a mixture of Yotam Ottolenghi and Tom Kerridge but I am probably more often compared to Nigella for my sexy curves and seductive voice.
YEP, WE CAN SEE THAT. WHAT'S THE SILLIEST QUESTION YOU'VE EVER BEEN ASKED?
'You haven't put anything stupid in that have you?'
WHAT ADVICE WOULD YOU GIVE YOURSELF WHEN YOU WERE FIRST STARTING OUT?
Become a tree surgeon
WHAT'S NEXT FOR GOOD FOOD & CO?
Well, the stall will be having a little bit of a facelift in the coming months and also some new dishes are on the horizon for the summer so stay tuned for that!
In the meantime, I have been rather busy building a new stall which I am excited to be launching at The Harbourside Market called 'Stacked Chips'. I'll be sticking to my guns using local suppliers and compostable packaging but producing some mighty fine junk food on the weekend markets and events around Bristol.
WHY SHOULD PEOPLE BE EXCITED ABOUT STACKED CHIPS?
I'll let the food do the talking!
Doubled cooked chips cut from the finest British spuds and topped with incredible homemade sauces including Hot cheese sauce, truffle & cheese, buffalo chicken, homemade gravy, curry sauce and smokey beans. Daily specials are in the pipeline like poached eggs and chorizo, braised beef and couli cheese sauce and a vegan cheese sauce is also on the way.
FINALLY. WHO SHOULD WE CHAT TO NEXT?
Chris & Izzy from Alp Mac.